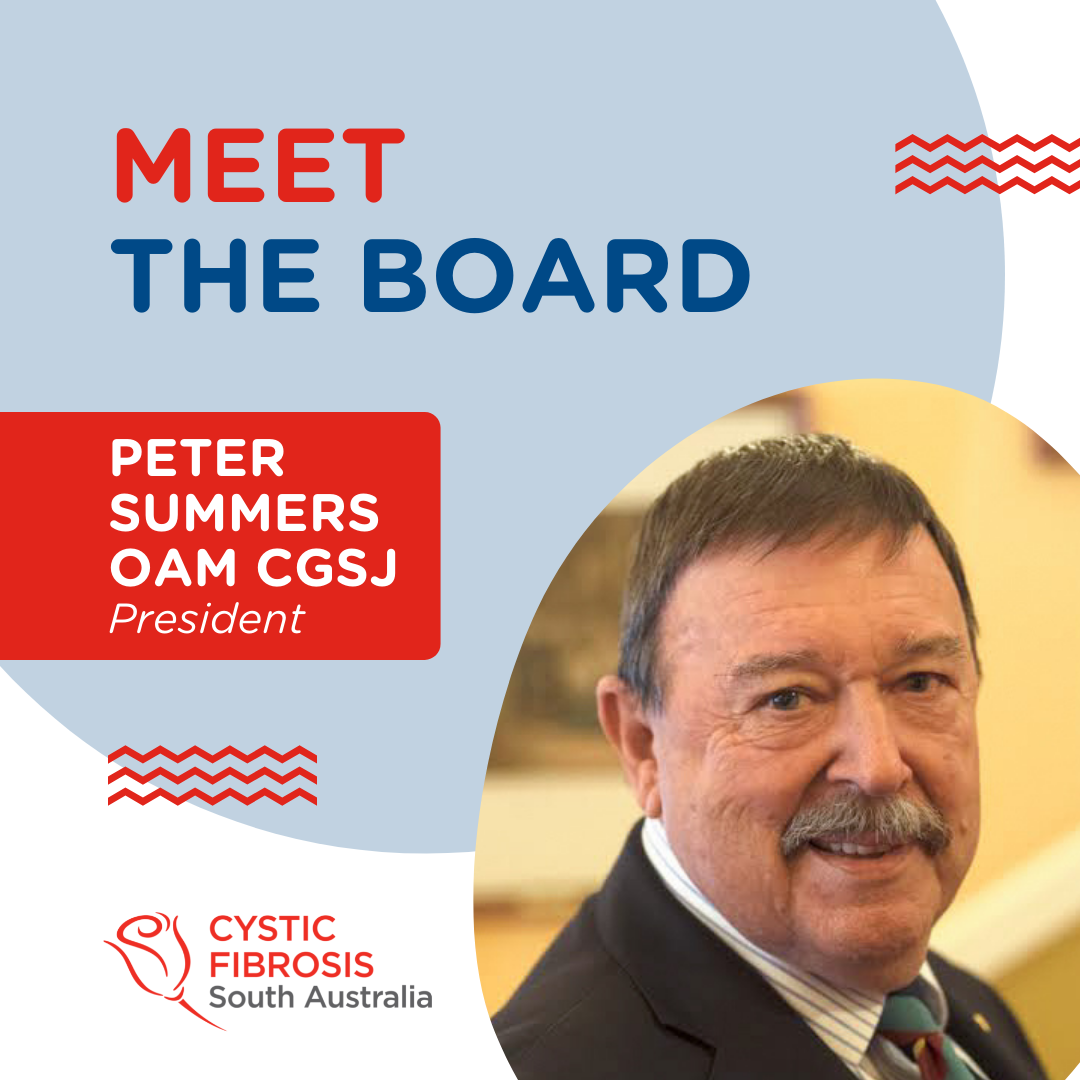 Peter Summers was initially invited to the role of President of the Board of Cystic Fibrosis SA in 2019 as CFSA looked for an independent and skilled director to help it build a new Board that could respond to the challenges of the future. He has subsequently been elected to the position of Board Member and then President in 2020. Peter will stand for re-election at the AGM in May 2022.
Peter brings extensive Board and business experience to CFSA. His comprehensive consulting experience spans a broad range of businesses – from engineering to florist shops!
We caught up with Peter recently to ask him a few questions;
Why did you volunteer to join the Board of Cystic Fibrosis SA?
When I was asked to join the Board as an independent member and Chair, I had just sold my business and I decided that I wanted to bring my business skills to a community based volunteer organisation. As I have worked in many different organisations, I felt that I had a range of skills and experiences to offer. I wanted to create a stronger organisation for people living with CF and their families.
Do you or a family member have any connection to Cystic Fibrosis?
No, but the more I learn about the challenges facing people (and their families) who live with CF, the more I want to make sure that the CF community has the supports and services it needs to give its members the best opportunity to live a full and healthy life. The advocacy for improved treatments and opportunities that the work of CFSA delivers continues to make this a very rewarding and worthwhile role.
What are the special skills that you bring to the Board?
I have managed many businesses and served on many Boards and these experiences enable me to work collaboratively with other professionals and community members to help them to set a strategic direction for the future. Helping the community to define and realise its future, is part of the role of the Board. Helping the Board understand the various elements of its mission, is part of the role of the President of the Board. Keeping the Board thinking about its future and its strategic direction, is one of the ways I can help it maintain its focus.
In your Opinion what are the Greatest Challenges facing CFSA over the next 5 years?
Over the next 5 years, I anticipate the following challenges:
Ensuring the financial sustainability of CFSA;
Responding to changes and improvements in treatments;
Supporting more informed family planning decisions;
Balancing the needs of members with differing health and financial situations;
Members with longer life expectancies; and,
Changing expectations of members resulting from improved health outcomes.
Tell us something surprising/interesting about you?
In my spare time, I like to make silver jewellery which I sell to raise funds for various charities;
I am a member of the Order of St John Knights Hospitaller, a charitable organisation.
I served for over 40 years in the Australian Army Reserve and the Australian Defence Cadet Service.
In 2006 I was awarded an OAM for service to recreation as a board member and the Australian Cadet Service.